The Best Fleet Dispatching Solution for Mid-Size Trucking Companies

Current Problem
What is the best solution for mid-sized companies?  We define mid-sized trucking companies as companies that feature a fleet size of 50-250, and it is clear that they need help. These companies have too many moving parts in terms of customers, invoices, trucks, employees, and other data to keep track of, to not be using some sort of application.
It is difficult for fleet managers to handle all the data necessary to run their business efficiently. When data is mishandled, violations, missed/late deliveries, and problems with payroll can all occur. Some of the current solutions to combat these problems include using multiple applications, transportation management systems (TMS), or by simply using Excel and Google Drive.
Current Solutions
Few of the options within the range of current solutions for trucking companies are worth the investment, because a lot of current solutions charge for everything they offer, instead of one rate that covers the entire product offering. These current solutions charge for extra bandwidth and for each individual application of the product offering. They also charge for training, and then additionally for the licensing agreement to use the software. For example, a dispatching software would charge extra to use their application featuring integrated accounting, or for the use of safety reporting.
For these mid-sized companies, if they do use transportation management software, it most likely would have been developed in the early 2000s. Technology changes daily, and trucking companies should not have to settle for out-of-date technology. With this in mind, the biggest area for growth for trucking companies is in mobile applications. Mobile is the way of the future, and if your TMS does not feature a mobile application, or is not working on providing one, they are behind both the times and the competition.
Another option for mid-sized firms is to use multiple applications to help run their business. If a business chooses to use multiple applications to run their business, the problem arises that these applications are not integrated, and there is no communication between them. This creates the need for entering data multiple times and there is nothing that employees hate more the double-data-entry .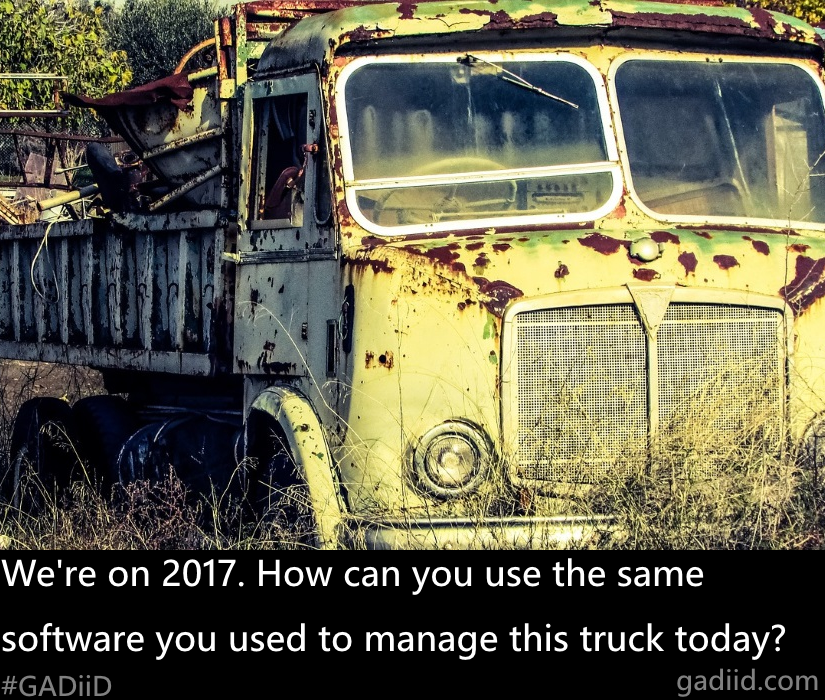 Does your TMS feel like this?
New Solution
The answer for these companies is GADiiD.
GADiiD's integrated, cloud-based trucking management software, developed for small and mid-sized trucking companies, to solve the problems of using multiple applications, or using out of date technology.
"We no longer have to use multiple applications to manage our business. GADiiD is a game changer."
GADiiD's TMS software is updated every two weeks. These updates are created to better meet the demands of the industry and GADiiD's customers. On top of dispatching, the software also features integrated accounting, asset management, communication to drivers and customers, CRM, and safety & compliance reporting. All of these features are integrated and are displayed in one clear dashboard.
Most importantly, we have a free mobile app for both Android and iOS. This application allows managers and customers to track shipments, shows routes and fuel data for drivers, and allows drivers to upload receipts, BOL and other documents instantly from the road on their smart phone, using the intuitive GADiiD mobile application. Drivers also can see their settlements, expenses, payroll and much more which reduces drivers coming back to the office for explanation of their earnings and load documents. This helps drivers to concentrate on what they do best – driving and give them less worry of their pay as they can clearly see everything on their Android or iOS application.
Not only does the software feature everything that a company might need, but it is affordable to all trucking companies. There is no transfer or training expense, and GADiiD offers a free two-week trial. These features ensure that you are making a good investment. By having a 21st century TMS solution with mobile capabilities, and an all-for-one affordable monthly payment, it shows that GADiiD's software is THE solution for mid-sized trucking companies.
Want new articles before they get published?
Subscribe to our Awesome Newsletter.